Best Hotels in India
india is no doubt one of the most popular destinations in the world for holidays, breaks, honeymoons and family trip. Still, finding the best hotel in India among the unlimited luxury hospitality options is really a tough job. So, here I'm sharing the list of top hotels in India with all luxury services they offer as well as the direct link of their official websites to book these hotels online. Don't worry, I shortlisted these hotels after reading users experiences, reviews, popular services mentioned on various websites & forums. Let's check it out-
Female , Lives in India
1. The Oberoi Udaivilas, Udaipur
he Oberoi Udaivilas is one of the most luxurious hotels in entire India. It's located at the historical land of Udaipur Rajasthan which shows the traditional beauty of forts, palaces & monuments. The Oberoi Udaivilas offers the royal beauty of historical architecture, luxurious rooms, rippling fountains, transparent pools, boat riding, and outdoor activities. You will feel like you are living in the palace with Rajput (Kings) style. Although it is costliest too, if you have a good budget, the Oberoi Udaivilas hotel is must recommended for you.
2. The Taj Mahal Palace, Mumbai
The Taj Mahal Palace is one of the oldest and royal hotels located in Mumbai, India. It is the first choice for travellers to stay who visit Mumbai for holidays, vacations or business trip. It is the luxurious hotels in Mumbai with the beauty of Gateway of India and amazing night view over the infinite blue ocean, especially in moon night. The Taj Mahal offers luxurious rooms, spa facility, bars, nightclubs, fitness club, swimming pool, shopping centre, restaurant/cafe and more-n-more what a tourist can expect from a world-class hotel.
3. The Oberoi Rajvilas, Jaipur
The Oberoi Rajvilas is one of most famous, costliest and royal five-star hotel is Jaipur Rajasthan. It is famous for its luxurious renowned rooms, royal villas, private pools, gardens, and the incredible lakes view with the beauty of old Rajasthani fort style. There is also a good facility for business and corporate meetings with secretarial services to make your business/corporate meeting/event a success.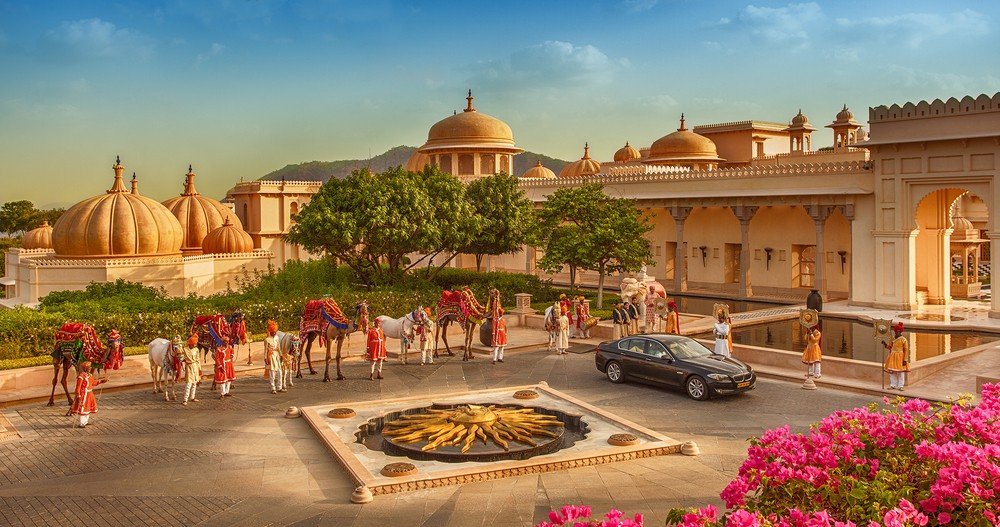 4. Taj Lake Palace, Udaipur
Taj Lake Palace, again one of the most popular and romantic hotel from Udaipur, winner of several times prestigious awards which famous for its natural beauties and incredible architectural. It is also famous as a prime honeymoon destination in India surrounding by Aravali Mountains. Taj Lake Palace accommodations can be categories into five level i.e. Grand Presidential Suite, Grand Royal Suite, Royal Suite, Palace rooms (villas) and luxurious rooms. You will get there all the facilities in your room as Rajput style.
5. Taj Falaknuma Palace, Hyderabad
There is no doubt Taj Falaknuma Palace is one of the best and finest hotel in entire Hyderabad, and also the most recommended choice of any tourist when they visit in this hi-tech city. The ancient architecture of this palace can impress anyone at first sight. It reminds the lifestyle of Indian Nizams and British kings. It equipped with world class luxurious rooms with Mughals style, conference halls for business, private pools, the wide range of restaurants, modern style clubs, bars, spa and natural lawns. It is also very close to Hyderabad top tourist attractions like Charminar, Salarjung museum, Chowmahalla Palace, Golconda Fort, Ramoji film city, Qutub Shahi tombs etc.
---
Your reaction?