Emmanuel Macron's Visit To India.
French President Emmanuel Macron is in India for a four-day visit. Prime Minister Narendra Modi, who personally welcomed the French President and the First Lady at the airport in Delhi on Friday evening, met President Macron for India-France bilateral talks at the Hyderabad House in New Delhi this morning.
Posted 1 year ago in Politics, updated 1 year ago.
Female
French President Emmanuel Macron arrived here tonight on a four-day India visit and was received at the airport by Prime Minister Narendra Modi, in a special gesture.Mr. Macron was accompanied by his wife Brigitte Marie-Claude Macron, besides senior ministers from his Cabinet.
Emmanuel Macron born 21 December 1977, is a French politician serving as President of France and ex officio Co-Prince of Andorra since 14 May 2017. Macron was appointed Deputy Secretary General in François Hollande's first government in May 2012, having been a member of the Socialist Party from 2006 to 2009. He was appointed Minister of Economy, Industry and Digital Affairs in 2014 under the Second Valls government, where he pushed through business-friendly reforms. He resigned in August 2016 to launch a bid in the 2017 presidential election. In November 2016, Macron declared that he would run in the election under the banner of En Marche!, a centrist political movement he founded in April 2016, and won the election on 7 May 2017.
Macron, at the age of 39, became the youngest President in the history of France. Upon his inauguration, Macron appointed Le Havre Mayor Édouard Philippe to be Prime Minister. In the June 2017 legislative elections, Macron's party, renamed "La République En Marche!", together with its ally the Democratic Movement (MoDem), secured a comfortable majority in the National Assembly, winning 350 seats out of 577, with his party alone winning an outright majority of 308 seats.
Welcome to India, President @EmmanuelMacron! Your visit will add great strength to the strategic partnership between India and France. I look forward to our talks tomorrow," Modi tweeted after receiving Macron at the airport.
I look forward to our talks tomorrow. Looking forward to co-chairing the Founding Conference of the International Solar Alliance with President @EmmanuelMacron on 11th March. The ISA is a unique effort that brings the world together to harness solar energy and create a cleaner as well as greener future, he tweeted.
In the international context, India and France can benefit from a shared understanding of the challenges that the world is facing today with the global uncertainties produced by Trump's disruptive foreign policy and the lurch towards dictatorship in China that can only make the handling of its geopolitical ambitions more difficult. India and France are working together to implement the Paris Agreement on Climate Change which Trump has repudiated.
On green energy, the International Solar Alliance will be set in motion jointly by PM Narendra Modi and Macron on March 11. At Davos, Macron, with Trump's policies in mind, issued a "call to all and everyone of us" to push back against protectionist and nationalist forces. Macron values the WTO. We have common ground with him both on protectionism and WTO's importance, which we should consolidate during his visit.
During the visit, the two countries would look to boost ties, especially in the areas of maritime security and counter-terrorism.An agreement on the Jaitapur nuclear power plant, which is being built with French assistance, is expected to be signed during the visit, sources here said.
Stepping up cooperation in the Indian Ocean region will be one of the top issues that will be discussed by Macron and Prime Minister Modi during delegation-level talks tomorrow."France has particularly supported India's perspective on terror in South Asia. We are seeing convergence in new areas, particularly maritime security, counter-terrorism and renewable energy," K. Nagraj Naidu, joint secretary (Europe-west), told reporters.
Besides defence, cooperation in the areas of nuclear energy and space are the other pillars of the strategic partnership between India and France.The two sides will also sign an agreement on co-development of a full-fledged satellite constellation in the maritime domain. "In the area of space, India and France have a matured engagement and we would like to take it to a new level," Mr. Naidu said.The Indo-French cooperation in the area of space is more than five-decades-old.
If China succeeds in changing the power balance with the US in the western Pacific, US weakness will become Europe's too because the Transatlantic alliance will feel the impact. The Eurasian component of China's Belt and Road Initiative (BRI) also affects France because the 16+1initiative incorporating East European and Balkan countries will eventually be at EU's cost.
The BRI's maritime dimension is of particular concern to New Delhi as China is building bridge heads around India, but France has to be concerned too because of its equities in the Indian Ocean.
Macron's visit should lead to a bolstering of India-France maritime cooperation in the Indian Ocean, with more synergy between the two navies in the Gulf area where France has a base (in Abu Dhabi) and better mutual understanding of the implications of a Chinese base in Gwadar.

France could also participate in connectivity projects such as the Asia-Africa Growth Corridor which would extend to Africa's eastern shore board where France has a territorial presence. At the bilateral level, our relations with France have been stable and productive. The spectrum of these relations is wider than with our other major western partners, as beyond defence, trade, investment, education and culture, we have had long standing cooperation in sensitive areas such as nuclear and space.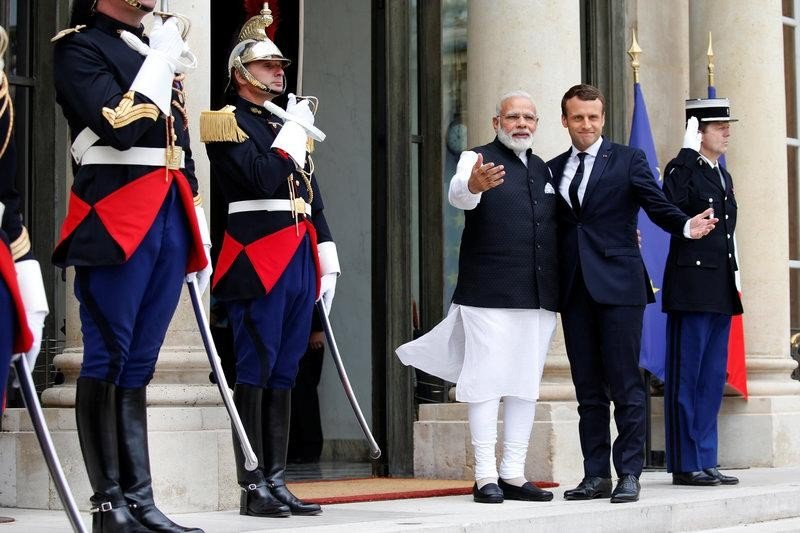 After holding delegation-level talks with Mr. Modi tomorrow, Mr. Macron will take part in a Town Hall and have an interactive session, in which nearly 300 students from different institutions are expected to participate.On the same day, he will also take part in a Knowledge Summit which will be attended by more than 200 academicians from both sides.On March 11, Mr. Macron will attend the International Solar Alliance (ISA) Summit, an initiative mooted by France and India.The ISA Summit, expected to be attended by several heads of the states and governments, is likely to focus on concrete projects. On the same day, he will also visit Taj Mahal in Agra.Mr. Macron will also visit Varanasi, the parliamentary constituency of Mr. Modi, on March 12.He, along with Mr. Modi, will inaugurate a solar plant in Uttar Pradesh's Mirzapur.
Notwithstanding all this, longer term strategic considerations do not sufficiently shape our policies towards France. Lack of political instruction, bureaucratic decision making, limited media, academic and think-tank exposure to each other, competition from other countries, linguistic, cultural, business and people to people bias in favour of the English-speaking world are some reasons. Macron's visit should hopefully serve to inject greater fizz in what is intrinsically a champagne quality relationship.
---
Your reaction?